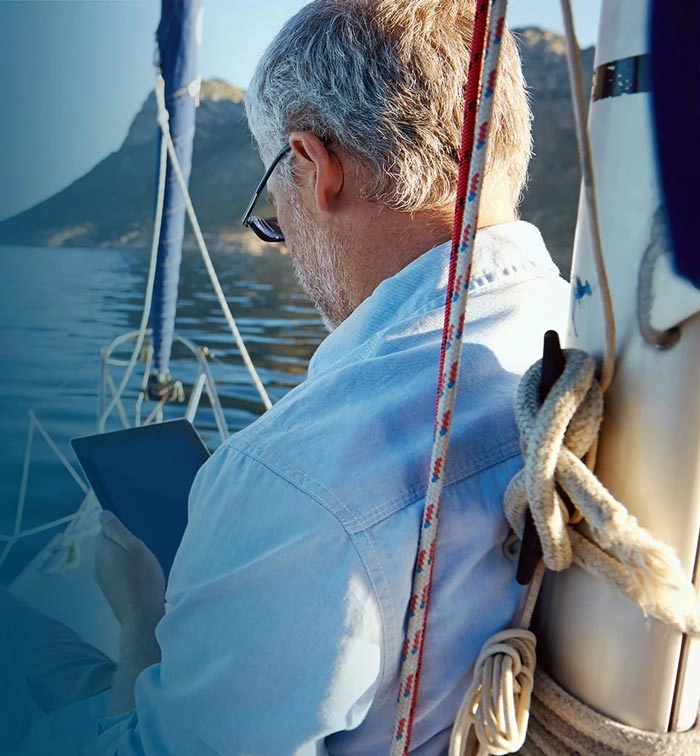 IYT now offers flexible online boating courses & preparation courses
You choose where and when you study.
Progress at a pace that suits you.
Choose an IYT partner school to help you put it all into practice.
We know that a "one size fits all" approach to learning doesn't work for everyone. With online courses your learning can take place when and where it suits your schedule.
This approach may be particularly useful for people looking to prepare for an ICC online.
Finally a word on safety. We get it – you can't learn to sail from just reading a manual. For people to be safe they need a blend of theoretical knowledge and practical skills. That's why we always insist that students demonstrate their skills on the water before they are awarded IYT certificates. Don't worry though, we have a network of schools and instructors that can help you every step of the way.
Know what course you want and ready to start? Jump right in here.
More About IYT E-Learning Courses
At present we have online preparation courses to support our most popular courses.  We are continuing to improve existing courses and add new courses.
We will soon be releasing (as of April 2017) a new VHF/SRC Marine Communications E-Learning course.  This course is the first to be developed using a new platform which we are very excited about.  We plan to revise all the existing E-Learning courses using this platform and eventually have all IYT courses available for E-Learning. 
Professional
Professional courses are designed for those wishing to pursue a career in the superyacht industry. At present we have a Business & Law Module for the IYT/MCA Master of Yachts 200 Ton as well as acting as a refresher course for MCA II/2 200 Ton Master oral exams.
---
Recreational
Recreational preparation courses are available for:
International Certificates of Competency (ICCs)
The ICC courses are will prepare you for an International Certificate of Competency issued in accordance with UN Resolution 40 and is a requirement in many European jurisdictions. More details here
International Bareboat Skipper
The International Bareboat Skipper is a five day course. It is not designed for beginners and the recommended entry-level requirements are a VHF radio operators' certificate, and to have logged over 200 nautical miles and 10 days at sea before advancing to this level. The recommended minimum age to obtain this certification is 18. More details here.
Small Powerboat & RIB Master
This is covers power vessels up to 15m operating in familiar coastal regions More details here
---
Dive Boat
Dive boat preparation courses area available for:
Dive Boat Mate
The Dive Boat Mate course is an entry-level course designed for dive professionals or those who are training to become dive professionals. The course contains training and internationally recognized certification for Commercial Deck Crew, VHF Radio, Marine Engineering, Tender boat driver (Small Powerboat & RIB Master) and relief captain. More details here.
Dive Boat Master for Experienced Operators
This is for experienced dive boat captains who either have had no formal training and recognition or for those that hold a domestic rating who want to be internationally recognized. Provided the candidate has adequate experience and sea time, this course runs through all the theory components required so they are prepared for the workshop and testing. More details here.
Please note that you will still be required to take practical testing and training at an IYT partner school.